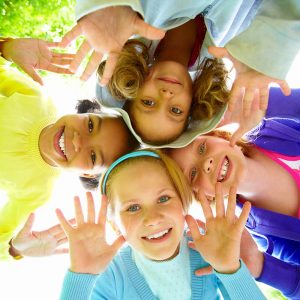 The aim of our robust curriculum is to enable children to learn through play in a safe environment and to develop social confidence among their peer groups. To lay a solid foundation among the children, meaning learning is extremely pivotal in today's time. A scientifically designed systematic learning process will ultimately provide a strong foundation of knowledge catering to all developmental stages of the toddlers.
Stress-Free education.
Concept based learning with the aid of role-play and several popular modern methodologies.
Toddlers are active and curious learners from birth, able to lead their own learning within the context of close and supportive responsive adults. The preschool age is the most impressionable age in one's life. The rate of development at this stage is more rapid since 50% of a child's brain develops in the first four years. To aid their development to the fullest, the pedagogy for children is specialised with the state of the art curriculum.
Our programs are built to provide your child with the right stimulation for their age with the right balance of learning & fun to ensure overall development. Kids games at playgroup & nursery, and kindergarten activities at junior and senior kg class are designed to encourage curiosity and fuel the creative side of your child.
360° Development
At Ati Priye Kids, the new age mindful curriculum is derived from our Child First ideology, where the innocent & beautiful mind of a child is the inspiration for everything we do. Our curriculum is structured on three strong pillars in learning: Mindful, Spaced and Blended for Holistic Development in kids. Integrated with fun based learning methodologies our curriculum gives a great mix of activities and games impacting MIND, BODY and SOUL thus building a strong foundation for the little children to learn, grow and imbibe essential life skills.
Practical Life/Care for Self & Environment
1.5 – 2.5 Years

AGE GROUP

2.5 hours/day

DURATION
2.5 – 3.5 Years

AGE GROUP

2.5 hours/day

DURATION
3.5 – 5.5 Years

AGE GROUP

3.5 hours/day

DURATION
Online Pre-schooling

Learning Programs
Your most beloved pre-school brings you online Preschool Program, a program that focusses on nurturing your Child's growth and learning capabilities without you stepping out of home
Our research based curriculum powered by domain based expert professionals in curriculum designing, is aligned to meet overall development in the child.